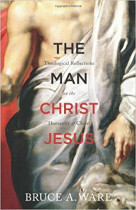 The Man Christ Jesus: Theological Reflections on the Humanity of Christ
What does it mean for Jesus to be HUMAN?
Theologian Bruce Ware takes us back to the biblical text, where we meet a profoundly human Jesus who faced many of the same difficulties and limitations we experience today. Ware explores the significance of Christ's humanity and helps us to learn, by the power of the Spirit, to follow in Jesus's steps.