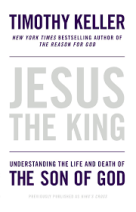 Jesus the King is Timothy Keller's revelatory look at the life of Christ as told in the Gospel of Mark. There have been many biographies of Jesus, but few will be as anticipated as one by Keller, the man Newsweek calls "a C.S. Lewis for the twenty-first century."

In it, Keller shows how the story of Jesus is at once cosmic, historical, and personal, calling each of us to look anew at our relationship with God. Like Keller's other books it has tremendous crossover appeal, but it is also ideal for the faithful, those who are looking for a closer connection to Jesus and Christianity.

New York Times bestselling author and nationally renowned minister Timothy Keller unlocks new insights into the life of Jesus Christ.